Department Overview
The North Dakota Department of Health employs about 300 people dedicated to making North Dakota a healthier place to live.
The six sections of the department include:
Fiscal & Operations
Medical Services
Healthy & Safe Communities
Health Resources
Emergency Preparedness and Response
Employees in these sections provide public health services that benefit the citizens of North Dakota.
Mission Statement
Improve the length and quality of life for all North Dakotans.
Values
The North Dakota Department of Health values:
Excellence in providing services to the citizens of North Dakota
Credibility in providing accurate information and appropriate services.
Respect for our employees, our coworkers, our stakeholders and the public.
Creativity in developing solutions to address our strategic initiatives.
Efficiency and effectiveness in achieving strategic outcomes.
Organizational Chart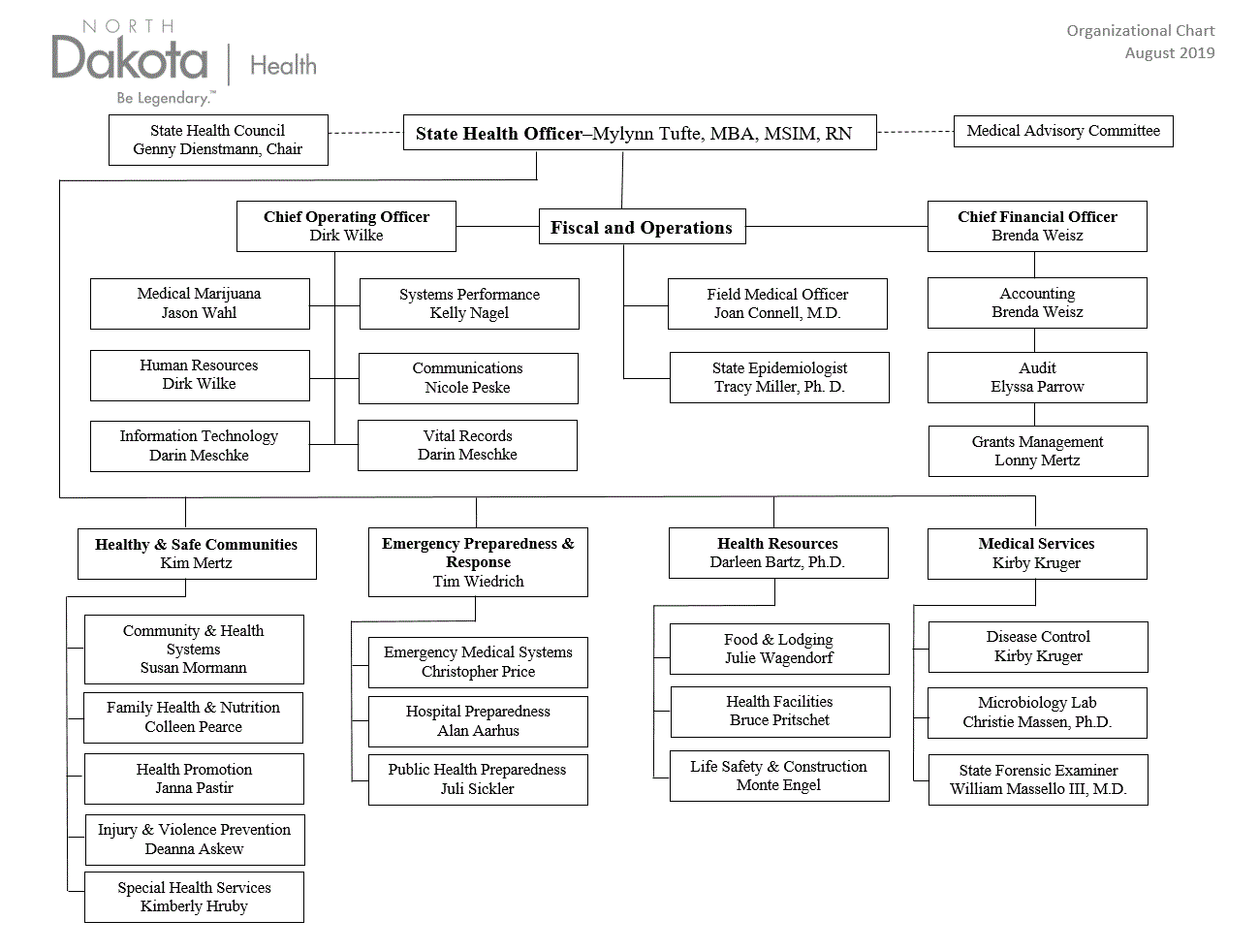 Accounting
Human Resources
Medical Marijuana
Public Health Systems and Performance
Public Information
Office of the State Epidemiologist
Vital Records
Emergency Medical Services and Trauma
Hospital Preparedness
Public Health Preparedness
Education Technology
Food and Lodging
Health Facilities
Life Safety and Construction
Community & Health Systems
Family Health & Nutrition
Health Promotion
Injury & Violence Prevention
Special Health Services
Disease Control
Microbiology
State Forensic Examiner

Advisory Groups
State Health Council
The State Health Council serves as the North Dakota Department of Health's advisory body. The council's 9 members are appointed by the governor for three-year terms. Four members are appointed from the health-care provider community and five from the public sector.
Chair
Genny Dienstmann (Consumer)
Vice Chair
Secretary
Members
Darrold Bertsch (Consumer)
James Brosseau (Health Care)
Mike Fedorchak (Consumer)
Tyler Lannoye (Health Care)
Kristin Roers (Health Care)
Torey Sayler (Consumer)
Dennis E. Wolf, M.D. (Health Care)
North Dakota Department of Health
600 East Boulevard Avenue
Bismarck, N.D. 58505-0200

Phone: 701.328.2372
Fax: 701.328.4727

Field Medical Officer - Joan Connell, MD, FAAP, MS, RPh - 701.328.2239
Administrative Assistant 701.328.2372
Environmental Health Practitioner licensure
State Health Council
600 East Boulevard Avenue
Bismarck, N.D. 58505-0200
Chief Operating Officer: Dirk Wilke
Chief Financial Officer: Brenda Weisz
Phone: 701.328.2392
Fax: 701.328.4727
Accounting 701.328.2392 fax: 701.328.4727
Human Resources 701.328.2392 fax: 701.328.4727
Medical Marijuana 701.328.1311 fax: 701.328.1333
Public Information 701.328.4619 fax: 701.328.4727
Public Health Systems and Performance 701.328.2372 fax: 701.328.4727
Vital Records 701.328.2360 fax: 701.328.1850
Information Technology Coordinator 701.328.2494 fax: 701.328.4727
North Dakota Department of Health
Health Resources Section
600 East Boulevard Avenue
Bismarck, N.D. 58505-0200
Section Chief: Darleen Bartz

Phone: 701.328.2352
Fax: 701.328.1890

Division of Health Facilities 701.328.2352 fax: 701.328.1890

State licensure/federal certification of hospitals
State licensure/federal certification of nursing facilities
State licensure of basic care facilities

Federal certification of home health agencies , hospice programs , end stage renal dialysis ,
ambulatory surgical centers , physical therapists in independent practice
Federal certification of intermediate care facilities for the mentally disabled ,
rural health clinics , CORF , and complaint process
Federal nurse aide abuse and registry, quality assurance, standards development,
resident assessment instrument, alternative health care projects, electrology licensure

Training Coordinator: Kelly Beechie

Provider training, staff development, surveyor orientation

CLIA Manager: Bridget Weidner
Building Codes/Life Safety Code : Monte Engel

Plans review and Life Safety Code management
Food & Lodging 701.328.1291, toll free 1.800.472.2927 fax: 701.328.1890
Life Safety and Construction 701.328.4873, fax: 701.328.1890
Healthy & Safe Communities Section back to top
North Dakota Department of Health
600 East Boulevard Avenue, Dept. 301
Bismarck, N.D. 58505-0200
Phone: 701.328.2228
Fax: 701.328.1412
Section Chief: Kim Mertz
Maternal and Child Health (MCH) Block Grant: Kim Mertz
Division of Community & Health Systems
600 East Boulevard Avenue, Dept. 301
Bismarck, N.D. 58505-0200
Telephone: 701.328.2306 or 800.280.5512 (toll-free)
Fax: 701.328.2036

Director: Susan Mormann

Division of Family Health & Nutrition
600 E Boulevard Ave Dept 301
Bismarck ND 58505-0200
Telephone: 701.328.2496 or 1.800.472.2286
FAX: 701.328.1412

Director: Colleen Pearce
North Dakota Department of Health
Emergency Preparedness and Response
1720 Sykes Drive, Bismarck, ND 58504
Tim Wiedrich, Chief

Phone 701.328.2270
Fax 701.328.0357
Division of Emergency Medical Services and Trauma 701.328.2388 fax: 701.328.1702

Director: Christopher Price
Ambulance run report data
Communications systems
Training grant distribution
Trauma system development and implementation
Certification of quick response units
Licensure of ambulance services
Personnel training, testing, certification, and licensure
Ambulance inspection program
Certification of rescue units
Critical incident stress management program
Emergency Medical Services for Children (EMSC) program
Medical Services Section back to top
2635 E. Main Avenue, PO Box 5520
Bismarck, N.D. 58506-5520
Kirby Kruger, Chief

Division of Disease Control
Telephone No.: 701.328.2378 or 800.472.2180
Fax No.: 701.328.2499

State Forensic Examiner 701.328.6138

Division of Microbiology
Telephone: 701.328.6272 or 800.472.2121
Fax: 701.328.6280

Director: Christie Massen Ph.D., M.S., MLS(ASCP)

Field Medical Officer 701.328.2378 fax: 701.328.2499